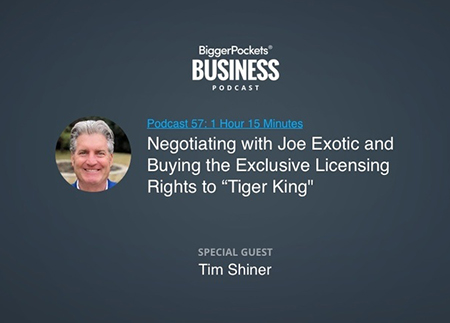 Negotiating with Joe Exotic and Buying "Tiger King" Merchandising Rights
We've all heard the adage about the importance of multiple streams of income. Today's guest takes that idea to a whole new level...
From patents to books to real estate to businesses to licensing royalties, Tim Shiner is truly an investing and business Renaissance Man. And his most recent project is his biggest yet!
On this episode, Tim tells us about how—as a "professional opportunist"—he has created dozens of income streams, how he manages his time to juggle all these projects, and most importantly, how you can start identifying opportunities in your life to do the same.
Then we delve into Tim's latest project: He has purchased the exclusive rights to license dozens of products related to the "Tiger King" and Joe Exotic brands, sensationalized by the Netflix mini-series over the past several months.
Tim tells us about how he hooked up with Joe Exotic's lawyers to negotiate the deal and how he's working with some of the biggest marketing companies in the world to monetize it.
Make sure you listen to Tim's story about how he acquired the largest bus in the world, wrapped it in a controversial design, and drove it from Texas to Washington, D.C., to promote the brand!
Are you looking for some inspiration for tackling big projects that might be a little bit out of your comfort zone? If so, this episode is for you!
Check it out, and subscribe to the BiggerPockets Business Podcast so you won't miss our next show!
In This Episode We Cover:
How Tim came to own the marketing rights to the hit Neflix show "Tiger King" and its star Joe Exotic
Building dozens of revenue streams
Becoming a "professional opportunist"
Why Tim believes money equals freedom
His unique real estate investing strategy
The tax advantages of having a side business
Inventing a beer koozie and making royalties
The struggles—and benefits—of working with partners
And SO much more!
Links from the Show