Audrey Self - A Woman Who is Beating the Odds
It's a  good thing Audrey was an accounting major and not statics major because she is defying all odds.  Audrey Self is the epitamie of determination and drive in her road to recovery.  On November 21, 2013, Audrey was t-boned by a truck on her way to print off a paper before her class at SMU.  90% of people with injuries similar to hers never come out of a coma.  Audrey has stunned even the medical community and even hopes to return to SMU in the fall to continue working on her degree.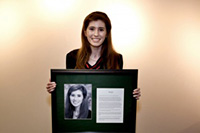 Tim is proud to support Team Audrey at the MetroPCS Dallas Marathon. Team Audrey has 26 members running: four marathoners, six half marathoners and three relay teams. The members include neighbors, relatives, longtime family friends, work colleagues and friends of friends. Audrey's mom will be pushing her a majority of the route, but Audrey plans to walk across the finish line with the support of her mom and teacher/friend, Cynthia Anway. Tim provided t-shirts for all of the members of Team Audrey for this great event.
To read more about Audrey's story, click here.